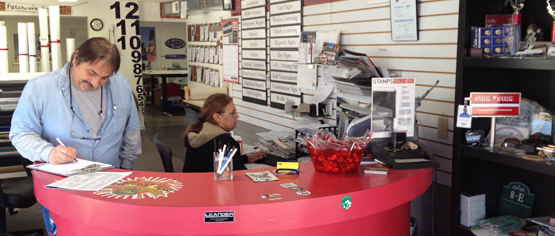 Product List
Sometimes people ask us, "What exactly do you do?" The answer is simple, we make signs. We are a sign shop that makes signs. Oh yea, we also offer:

Pesticide Flags
Decals
Helmet decals
Bumper stickers
Hang tag parking permits
Magnetic calendars
Static cling window stickers
All weather posters
Corrugated plastic signs
Metal yard signs
Fold-over posters
Parking signs
Poly fence plates
Rally fans
Security signs
Oil & Gas pipeline signs
OSHA decals, stickers, magnets, and signs
Patriotic magnetic ribbons
Patriotic signs, magnets, banners
Stock US Flags decals
Brochure Holders
Banners
News stand stickers
Invitations
Save-the-Date cards
Table tents
Parking permit decals
Vehicle graphics
Jumbo car hood signs
License plates
Pre-spaced die-cut vinyl lettering
Hard Hat decals
ID decals
Shower hangers
Door Knob hangers
Full color graphics
Car magnets
Many different school signs and magnets
Roll labels
Appointment cards
Rubber stamps
Real estate type yard signs
Menu boards
Large construction site signs
Business cards Magnets

(check back tomorrow when I think of some more!)
Copyright © 1997-2013. All Rights Reserved.